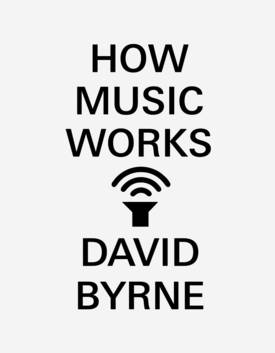 If you're looking for something similar to
Hammer of the Gods,
then do NOT read David Byrne's new book
How Music Works . . .
there are no sordid tales of fish-sex, drugs, and hotel orgies . . . instead Byrne offers his theories on how the context and setting of music is just as important as the composer, and he peppers his insights with anecdotes from his long, varied, and very experimental music career . . . here is an exercise that his dance choreographer, Noemie Lafrance, used during dance auditions, when they had to whittle a room of fifty hopefuls down to three lucky winners:
Rule #1) Improvise an eight count dance phrase to the music playing;
Rule #2) Once you have an eight beat phrase you like, then loop it . . . repeat it over and over;
Rule #3) When you see someone else with a stronger phrase, copy it;
Rule #4) When everyone is doing the same phrase, the exercise is over;
Byrne said it "was like watching evolution on fast forward" . . . the room started in chaos, and then pockets of order formed, and finally certain pockets "went viral" and within four minutes, the dancers were moving in perfect unison . . . and I feel like I could use this in class -- maybe with verbal chants and/or hand gestures rather than dance moves -- and it also sounds like a fun game to play at a party or in a bar (if you could get everyone to participate) and I tried to search on YouTube for an example of dancers doing this, but I had no luck . . . so if anyone has any ideas on how to implement this in a classroom, or does the exercise at a party or in a discoteque, please inform me of the results.